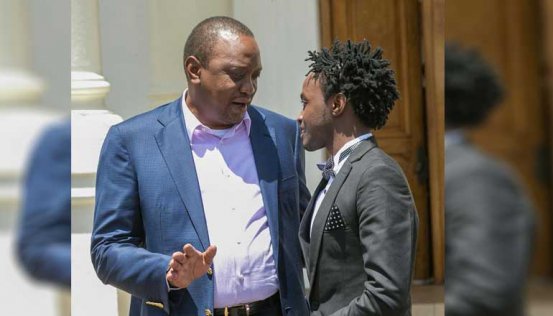 Apart from calling himself Mtoto Wa Mama, Bahati is also known as The Ghetto President. This gospel wonder kid has proven that  he is one guy with a massive following of his own… after all he was the 'President' for like 3 seconds.
When the Machozi hit maker is not Prayer Partnering with his Video vixen Bae, he is attending to his presidential duties. Last weekend, the Unikumbushe hitmaker was doing what he does best at Soweto, Kayole…Ministering to the crowd through music.
The way he landed was proof enough that Baha's music is paying. The singer made an appearance with a chopper ride and ahead to receive him was a massive crowd that danced to his music.
He wrote, "Chopper Ride ???? this Afternoon ….. #GHETTOPRESIDENT Went to Preach Peace to my Ghetto People even as We Approach this Election Period – Let nothing Kill Our Love 4 each Other???? #Peace ???????? #KAYOLESOWETO."
Even if it seemed like a campaign thing, it obviously shows that the Maria singer scooped a lot of money from his performance.
Check out the video;