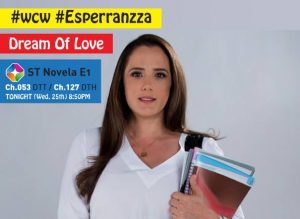 The highly reputed Mexican soap opera 'Dream of Love' is now showing on StarTimes Kenya.
The soap opera, which stars  Cristián de la Fuente as Ricardo, Betty Monroe as Esperanza, Sabine Moussier as Tracy is showing every Wednesday at 8.50pm.
In the series, Esperanza Guerrero is a single mother working as a teacher at two schools, a state school and an elite school to provide for her two teenagers, Pedro and Patricia. Ricardo Alegría, a married father with two young children, works as an Interpol agent in Los Angeles.
While seeking to capture a sleazy jewellery thief known as 'La Sombra', he infiltrates the private school where Esperanza is employed and masquerades as the teacher of the criminal's son.
Esperanza and Ricardo are reunited following a 20-year separation and fight to rekindle their love.
The series is showing on StarTimes channel 52 on DTT and Channel 127 on DTH. Alternatively, viewers can download the StarTimes mobile app and catch all the action plus all the episodes they may have missed for free.
The application is available on Google Play Store and is compatible with all smart phones.