What's your official job title at The Standard Media Group?
Head of TV Production, Programming and Creative.
Are you excited to be on-screen now, as opposed to being behind the scenes?
It's great doing KTN Life & Style. It wasn't really my plan, but one of my colleagues suggested it one day based on my love for books and writing.
I was a little hesitant based on my official job title and description, but we eventually decided to go ahead with it. I, however, was a presenter when I was first starting out. I did Art Scene.
Right, with Misiko Andere?
Oh! You remember! Yes, I was, in fact, leaving the show and Misiko was taking over from me.
Kenyan media has largely been accused of losing its credibility, what's your response to this?
I almost want to say, and I will say, that there's some truth to that, but it's selective truth.
Look, you've got to realise, the media is not inanimate.  There are people in the profession who don't stay true to their values, and it gives us all a bad name. The credibility issue is a huge one, and it is everywhere. It started in the West before it got to Kenya. It's almost like a pandemic.
Does the brown envelope phenomenon have a significant role to play in this lack of credibility?
Yes. Unfortunately. And it's because many people get into the industry and quickly forget what their personal values and missions are.
It's very unfortunate that sometimes all it takes to embellish an impactful story is a loaded envelope.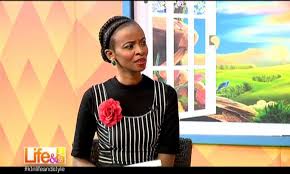 But then again, doesn't our economic fabric have a lot to do with these envelopes? Not all media jobs pay a decent enough amount to comfortably survive on.
That is true. And that is exactly why you need to know what your mission is before you get in.
Our economic fabric notwithstanding, you should be operating with integrity. If you take the job knowing what it offers and the terms that come with it, accept it as is and be comfortable with it.