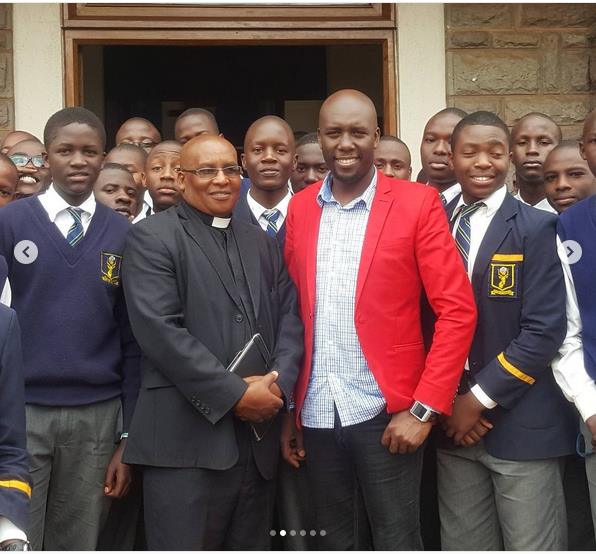 NTV journalist and Betty Kyallo's estranged husband Dennis Okari is now a preacher. The father of one, after being exposed for being a dead beat dad, is now ministering in local high schools. It seems he has chosen to live according to God's ways.
He wants to be a role model to young souls who are ready to take Jesus Christ as the saviour of their lives.
Over the weekend, Okari attended the much-anticipated Hillsong concert that went down at Citam Valley Road on Saturday.
 "A big thank you to media. shamamah for capturing the worship moments at Hillsong concert. Let's do it again bruh!," he posted accompanied by the photo below. 
On Sunday, Okari ministered at Nairobi School and State House Girls respectively.
'Nairobi School in a praise eruption. We are celebrating 39 souls that received Jesus today. Blessing God for life and His grace. Shared a message titled "Above ONLY" – Deut 28:13 Onto the next one. #SchoolMinistry'
The students at State House girls were so overwhelmed by the word of God and broke into joy and jubilation.
"State House Girls was lit with hungry girls after God. Shared on Judges 6:12 "The LORD is with you" #SchoolMinistry," Okari shared on social media. 
Well, Dennis has accepted to spread the word and just like Betty Kyallo revealed in her interview with True Love, her ex-husband is so deep in religion.
The sexy TV siren said that after their honeymoon in Dubai, they went to his rural home and this is when reality started checking in.
"THAT DECEMBER WE WENT TO HIS SHAGS. THERE WAS STILL A BIT OF FRICTION WITH THE FAMILY, AND BY THE TIME I WAS LEAVING I COULD SENSE THAT HIS FAMILY HAD GROWN COLDER. OUR CULTURES STILL HAD NOT GELLED."
Back in Nairobi, their relationship was shaky, nothing to smile about.
"The straw that broke the camel's back was when Dennis got into a religious group."
She went ahead to explain how Okari once showed up with a prophetess at the hospital where she was admitted, something which changed Betty's mind totally.
"One time when I was sick at the hospital, he showed up with a prophetess at the Accident and Emergency to heal my stomach. I was used to a certain way of religion so I was shocked by it all!' Betty had had enough. 'I was tired, tired of being the power couple, tired of the religious practices that I could not fathom, and tired of not feeling protected by him." 
And it's at this point where Betty asked for a separation.