Over time, Ruth also became more flexible, reducing the number of her demands on the children to those she thought were essential. But when they reached an appropriate age, she and Billy sent all of them off to boarding school. Bunny acknowledged that part of their motivation might have been to provide their children with a better education than was available locally, but thought that was a minor factor. "Daddy was burdened, Mother was overwhelmed. It was easier to send us away."
Like her sisters, Bunny remembers being groomed for the life of wife, homemaker and mother. "There was never an idea of a career for us," she said. "I wanted to go to nursing school — Wheaton had a five-year program — but Daddy said no. No reason, no explanation, just 'No.' It wasn't confrontational and he wasn't angry, but when he decided, that was the end of it." She added, "He has forgotten that. Mother has not."
Franklin was always a handful. As an adolescent, he smoke, drank and drove fast,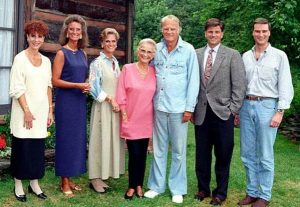 practices echoed in his adult image — he still rides a Harley, often preaches in a motorcycle jacket, and his first book was titled, "Rebel With a Cause."
Ned, the youngest sibling, manifested his rebellion by turning to more than a casual use of drugs, including cocaine. "While I was embroiled in all that," he recalled, "my parents were just very patient. They expressed concern and displeasure over the behavior, but never once did they make me feel they rejected me as a person. Their love for me was always unconditional. Their home was always open, no matter what condition I was in. They gave themselves to me, and I never felt their love was conditioned on meeting some requirement. Eventually, their grace and love were just irresistible."
As adults, publicly and to a large extent privately, the Graham offspring have seldom said anything more negative about their family life than, "We weren't perfect." In recent years, daughter Ruth — now no longer known as Bunny — has been more outspoken about what she regards as the disadvantages of growing up in a famous family.
"My father's relation with the family has been awkward," she said in a 2005 interview, "because he has two families: BGEA [the Billy Graham Evangelistic Association] and us. I always resented that. We were footnotes in books — literally. Well, we're not footnotes. We are real, living, breathing people."
She said there was no question her father loved them, but his ministry was all-consuming. "We have coped," she said. "We have not rejected them or Christ. We're all involved in some form of ministry. We have done well at living up to people's expectations, but it is a burden. We were not a perfect family and I'm tired of people saying it. I don't want to be indiscreet, but God inhabits honesty, and I'm not good at image-management."
Three of the five Graham children have divorced. Ruth was the first. When she discovered that her husband had been engaged in a long-running affair, she was devastated. "At first I resorted to my familiar pattern of denial — covering over my hurt with spiritual platitudes. I prayed. I fasted. I forgave. I claimed Bible promises. I did all I'd been taught to do. I also hid my problems from everyone, humiliated that others — especially my family — would find out."