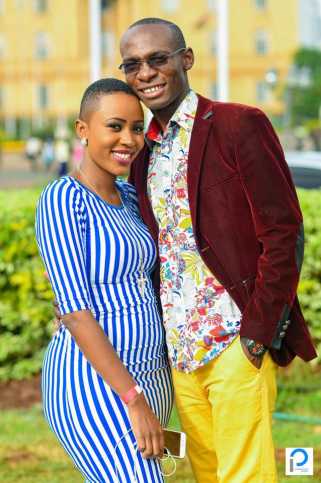 2017 has started on a notch higher in regards to people getting engaged and some even getting married.
Actress Sarah Hassan recently said "I do" to the love of her life in a posh Garden wedding in Karura Forest. Having been engaged for four years straight, it was high time she walked down the aisle and changed her title to wife.
It may seem that another celebrity couple is about to say their "I do's" after a long dating for a long time and even siring a kid together.
Dr Ofweneke and his baby mama Nicah the Queen are among the most admired Kenyan couples in the country. They have been together for a while now and the best part is that they are both celebrities. Nicah is renowned gospel singer and Dr Ofweneke is an MC and comedian.
But are the two about to ditch the come-we-stay club for the holy matrimony path? Well Nicah posted photos on social with hints of a possible wedding.
She posted photos of two wedding gowns indicating that "He" wants a certain gown but she wants a different one.
It's not clear if she meant Dr Ofweneke, but we got hold of Dr Ofweneke for a comment and he said he can't comment on the matter.
So are they finally tying the knot or is it just a publicity stunt?
Check out the photos below;