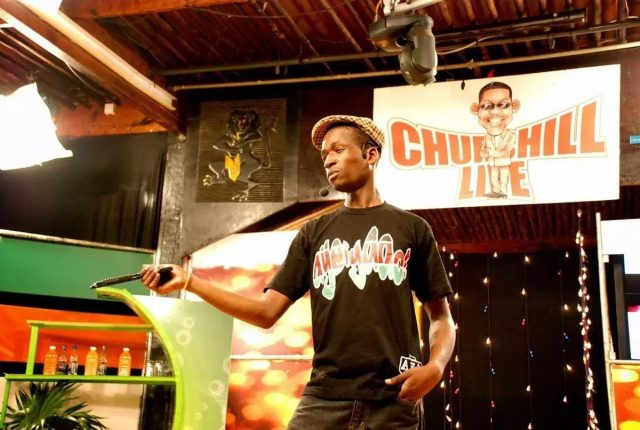 "We used to hustle together and we referred to each other as Muchina (local name which refers to a person who tarmacs in search of a job). We met 10  years ago and became close friends. He was a hardworking man and every day we hustled, he would mention that he was doing it for his young family,"
Said popular Churchill show comedian Njoro during Ayeiya's yesterday mass at NPC Karen.
The talented comedian and a close friend to Emmanuel Makori Nyambane alias Ayeiya Poa Poa went ahead to read the moving tribute on behalf of the Churchill show fraternity.  Bosibori (Ayeiya's sister), eulogized him as a hardworking, God-fearing, humble, loving,  caring, ever jovial and an inspirational person. Also, his wife and here is Ayeiya's sibling's tribute;
"Tribute to my loving husband…….
Dear Emmanuel (Manu)
Manu, it hurts that I have to write this at such a time. Couldn't imagine one day you would not be here. You were more than a partner to me, you were my friend, the only man our kid Tamara called 'daddy'. You made sure we became a prayerful family. I still have your dreams with me.
Tamara will attend shule poa poa sana with the help of God. Why did you have to leave me alone? I still remember our best valentine when you dedicated a bible to me. You taught me virtues one needed in this world, since you were kind to everyone you always taught me about sharing, you were apologetic always. I have never seen a young man who
loved his family like you did. Tamara will miss you, I don't know how she will cope with the fact that you won't be there to see her off to school.
I love you and will miss you my prayer partner. You used to tell me prayers solve everyone and even now that you are gone all I have is prayer and the joyful daughter you have left behind, she has your joke. It hurts to say this but goodbye my prayer partner, Manu, baba Tamara, babe and Ayeiyaa poa poa as your fans knew you. Till we meet again."
Ayeiya loved his young family; wife Alice Njoki Nyambane and daughter Tamara so much. Ayeiya will be laid to rest tomorrow at his parents home in Kijauri, Nyansiongo, Kisii County alongside his grandmother who passed away a week ago.
Alice Njoki was in the company of her husband when the tragedy occurred. Ayeiyaa died on the spot while his wife was seriously injured and was rushed to Kenyatta national hospital where she was treated and discharged.
Ayiya poapoas body is en rout to kisii where he will be laid to rest tomorrow.