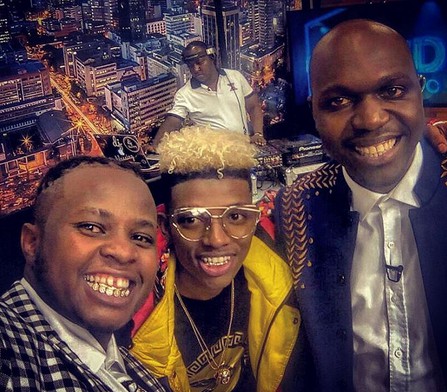 A move by gospel singer David Kilonzo, better known as DK Kwenye Beat, to flaunt his gold encrusted teeth during a live TV show has not gone down well with his fans.
DK, who has been musically quiet for some months now, appeared on 'The Trend' on Friday talk about his latest single with Masterpiece dubbed 'Baba Yao'
However, newly-found American accent and golden teeth outshone their new song so much so that it became a topic of discussion in the interview hosted by Larry Madowo
While some chose to make fun of his funny accent, others expressed displeasure at the fact that his mouth was stuffed with iron sheets or
Here's the video:
And some of the reactions from his fans on YouTube:
Eric Mauti: Hii ni Weed ya Garden of Eden aki. Pure Weed.
Michael Gachui: This is not gospel again. DK kwenye beat, tutolee ujinga hapa.
Jephant Gichy: The new set of teeth waaah! Amejaza macadamia nuts kwa mdomo ama?
Daniel Mech: Hiyo ni accent ya JKIA. Hapa majuu huyo atahitaji captioning.
Brian Olunga: Toa hizo mabati, sasa hi ni ufala gani mmetuleta?
Annie Ndung'u: Its a hard question bra' cmon, just say brother.
Phill Ligawa: The guy has accent but still speak bad English? Hii ni choo tu.
Brian Kimanyi: So goddamn fake, he looks like he needs to spit or something #Ican't
Also Read: