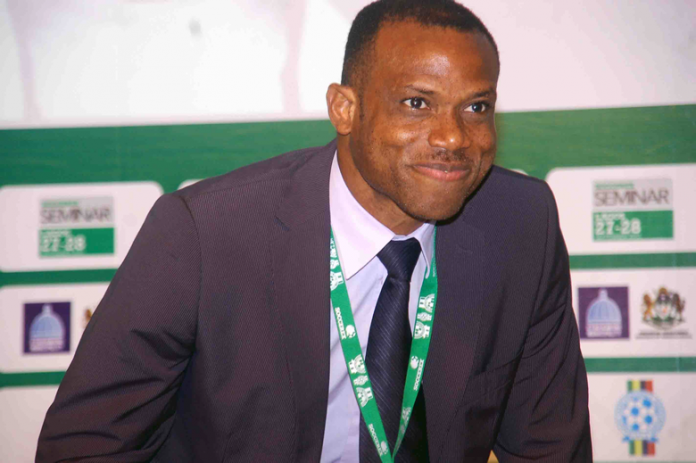 Former Nigerian top football Sunday Oliseh is set to tor Kenya. Olised will be in Kenya on a three-day visit that will begin on December 20 courtesy of StarTimes Kenya. He will be in the country under the Bundesliga Legend's Tour.
"We are very happy that Jay Sunday will join the Legends Tour and I believe that Kenyan football fans will enjoy a wonderful week with him shortly before the end of the year," said StarTimes Vice President Mr. Mark Lisboa.
According to a statement issued by StarTimes Kenya who are the lead local sponsors, Oliseh will be the chief guest during 'The StarTimes Inter-Media Quiz Challenge' where the various media houses in the country will be competing for top prizes among them StarTimes flat screen digital television sets. "The 'Quiz Challenge' will feature teams of five from the various media houses, testing their knowledge of the German Bundesliga," said the statement.
Interestingly, Sunday Oliseh will join Kenyan football fans during the live screening of the Bundesliga clash between his old club Borussia Dortmund and Augsburg.
During his tour, Oliseh will also visit Ligi Ndogo football academy an activity that will see him take kids from various academies through training sessions and present them with soccer merchandise including jerseys and balls.
In his active playing career, Oliseh played as a midfielder. He was the coach of the Nigerian national football team from July 14, 2015, until he resigned on February 26, 2016, over a "lack of support",unpaid wages and contract violations by the Nigerain Football Federation (NFF).
A physical, technical defensive midfielder, Oliseh played for well world famous clubs such as AFC Ajax, Borussia Dortmundand Juventus F.C. He became Bundesliga champion with Borussia Dortmund in season 2001/02.
Oliseh played 63 international matches and scored three goals[4] for Nigeria, and played at the Football World Cups of 1994and 1998. Oliseh also participated in the Olympic gold medal winning team of 1996. Sunday Oliseh was voted Africa's 3rd best footballer in 1998 by CAF
He is mostly remembered for scoring the winning goal in the group stage match against Spain in the 1998 World Cup, as Nigeria prevailed 3–2.
Currently, StarTimes Kenya has an exclusive broadcasting contract with DFL Sports Enterprises for five successive seasons (2015/16 to 2019/20), acquiring extensive media rights to provide exposure of the Bundesliga in Sub-Saharan Africa.