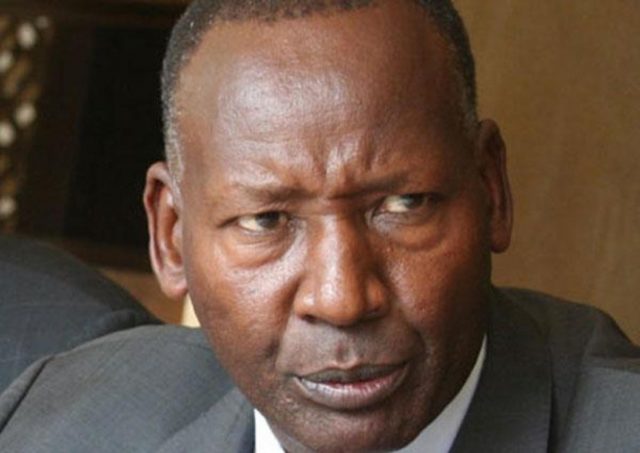 It's a dark day for Kenyans. The entire nation is mourning the passing on of security Cabinet Secretary Joseph Nkaissery.
The CS died last night at Karen Hospital, a few hours after he was admitted for check up.
Chief of Staff and Head of Public Service, Joseph Kinyua confirmed Nkaissery's death in a statement that was also shared by President Uhuru Kenyatta.
"It is with deep sorrow and shock that we announce the sudden passing on of Interior CS Retired General Joseph Nkaissery.
Gen. Nkaissery passed on at Karen Hospital in Nairobi a few hours after being admitted for a check-up.
The country to be updated as more information becomes available."
Yesterday, Nkaissery accompanied Uhuru Kenyatta to a prayer event that was held at the Uhuru Park gardens but after leaving, he went to Karen Hospital for a check up never to return back home.
He died aged 67. Many have eulogised Joseph as a hardworking, kind and a man who was so passionate about his job. He tried his level best to protect Kenya from terrorists.
Here are messages of condolences from Kenyans
Jubilee Party: Our party leaders wish to announce that General Joseph Nkaissery passed tonight. We are saddened of his demise. #RIPNkaissery
Fredrick: This is a very sad news. I was with General Nkaissery yesterday at a prayer rally. We have lost a great man. #RIPNkaissery
Esther Passaris: A Friend. A tough Man. True to his calling to Serve. Keep Kenya and Kenyans Safe. He will be missed by many. #RIPNkaissery #ToughandHumble
Njosh: 21 Gun Salute to a man who has done everything to secure our nation since assuming office. We have surely lost A great leader #RipNkaissery
Waiguru: Bae's closest lieutenant in the upcoming elections is dead. Interior cabinet secretary Joseph Nkaisery is dead. #RIPNkaissery
Babu Owino: The late @GenNkaisserry was a member of ODM before he was appointed to head @InteriorKE .May his soul rest in peace #RIPNkaissery
Philip Etale: Yesterday at Uhuru Park during the prayer meeting @GenNkaisserry looked fine and full of life, but again God has his plans #RIPNkaissery
Ekuru: Waking up to a very sad news that my friend General Nkaissery has passed on .I was with him yesterday at a prayer rally #RIPNkaissery
Manta: Not the best news to wake up to, we have lost another pillar in our maa community…..naai torripo larikok lang RIP Ole Nkaissery.
CS Joe Mucheru: I'm deeply saddened by the loss of our dear beloved colleague General Nkaissery. We will miss you greatly #RIPNkaissery
Njosh: #RipNkaissery Waking up to shocking news. We have lost a Gallant person who was determined to fight terrorism "kwa hali na mali"