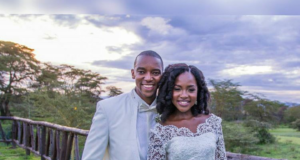 Joyce Omondi and Waihiga Mwaura are everyone's relationship goals. The two are a shinning beacon to many couples.
Joyce always takes time out to thank God for fating her to meet Waihiga Mwaura. She has branded him "the one he kept for me."
Joyce wrote, "Thank you Lord for this incredible man. I'm so grateful for his support and how he encourages me to be everything You have called me to be. His dreams for me are bigger than what I even hope for myself. In his warm embrace I'm reminded of just how much You love me. What an honor it is to serve You and minister to Your people by his side."
When the couple celebrated their anniversary, Joyce said, "Wewe ni wangu. I will always bless God for you. May He be glorified in our marriage. Here's to forever and a day 💏❤💫🤗."
Here is are reactions to the lovely photo.