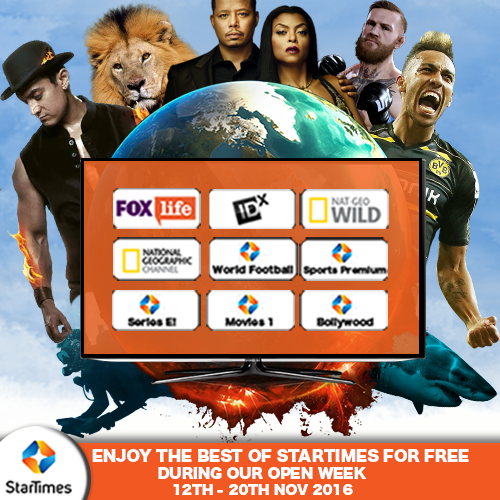 The StarTimes open week will come to an end this Sunday, the 20th of November. The open week has seen StarTimes Kenya open up some of its top channels to viewers for free. The open week started on 12th of November.
Interestingly, the top channels that have been opened to the public have not only be accessible to StarTimes Kenya customers but to the general public with a free to air decoder.
"We have endeavored to continue to offer relevant and competitive programming at affordable subscription fees from as low as Ksh 259 for Nyota and Ksh 1,499 for the Unique and Super packages," said StarTimes Kenya in a statement.
Every day, StarTimes has been opening 3 top channels. Currently, you can enjoy the following channels for free on StarTimes:
Fri 18th, Sat 19th, Sun 20th November
Nat Geo Wild
Nat Geo Channel
World Football
Sports Premium
ST Series E1
Other channels that have been available during the open week are:
1). IDX
2). Bollywood Africa
3). Nat Geo Wild
4). ST Movies
5). Fox Life
6). ST Series E1
StarTimes becomes the first pay TV provider to open premium free channels to both customers and the general public in Kenya.
According to Evans Ngare, a marketing strategist based in Nairobi, the move by StarTimes shows that the digital content provider is breaking the ceiling and bringing a variety of affordable content to consumers. "The market was previously dominated by one player, which left consumers with little option. However, the entry of StarTimes over the past two years has seen a breakthrough in the accessibility of digital content," he says.