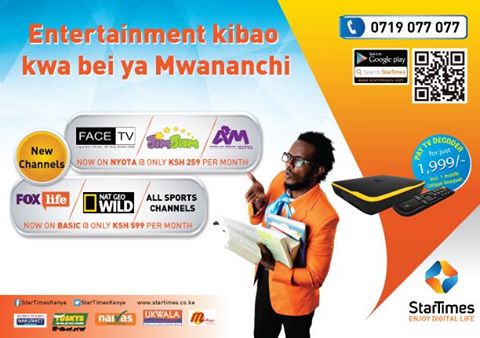 StarTimes Kenya has added new channels on its Basic Bouquet. This bouquet now retails at Sh. 599. The newly added channels include Fox Life, National Geographic Wild.
About Fox Life
Fox Life is a television network, launched by the Fox Broadcasting Company. Its basic programming include numerous television series, sitcoms and movies, among others, which includes some original programming.
About Nat Geo Wild
is a cable/satellite TV channel focused primarily on wildlife and natural historyprogramming. It is a sister network to National Geographic Channel and it is the latest channel to be jointly launched by the National Geographic Society and Fox Cable Networks. It first launched in Hong Kong on January 1, 2006. The channel remains the world's first bilingual wildlife service.
Although it has been previously available on DSTV's packages which are widely acknowledged as expensive, viewers will no longer have to part with so much money to access the package. this is because it is now part of the Sh. 599 basic bouquet on StarTimes.
Below are the other channels available on this bouquet:
1). ST Zone on Channel 054.
2). Channel 10 on Channel 113
3). ST Kung Fu on Chanel 150
4). ST Sports Focus on Channel 250
5). Al Jazeera on Channel 301
6). Jim Jam on Channel 360
7). Iqra on Channel 452
8). Sino Drama on Channel 058
9). E Stars on Channel 122
10). ST Swahili on Channel 160
11) CCTV News on Channel 280
12) Smile of a Child on Channel 366
13) ST Music on Channel 400
14) God TV on Channel 456
15) Emmanuel TV on Channel 454
16) PPP on Channel 430
17) Zee Cinema on Channel 507
18) Family TV on Channel 457
19) MCS Extreme on Channel 264
20) CNC on Channel 281
21) Animaux on Channel 235
22) BBC World News on Channel 300
23) CCTV 9 Documentary on Channel 231
24) UBC on Channel 117
25 ST Triple P on Channel 428
26) Da Vinci Learning on Channel 363
27) Nickelodeon on Channel 357
28) ST Swahili Bollywood on Channel 501
29) ETV on Channel 156
30) AMC Movies on Channel 018
31) AMC on Channel 017
32) ST Novela on Channel 063
33) Wap TV on Channel 125
34) Njata TV on Channel 126
35) MCS on Channel 262
36) Ebru Africa on Channel 109
37)  TVC on Channel 307
Interestingly, this package also includes bonus sports channels such as Sports Arena, Sports Premium, World Football, and Sports Life.