It was a sad moment in court as 60-year-old Yoruba man, Tunji Oyedele, a business man in Lagos, revealed that he wants his marriage of 22 years dissolved because he caught his wife in bed with her pastor.
The incident which took place on Wednesday, January 25, at the Igando Customary Court, had the attendance his 55-year-old wife and trader, whom the man accused of being promiscuous.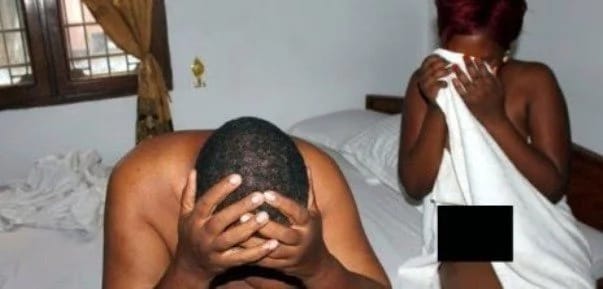 Oyedele said: "Whenever I travel, my wife brings men into our house; on two occasions, I caught my wife with her lovers in our bedroom. On one occasion, I came home unannounced and caught her with one of her lovers in our bedroom. On another occasion, I caught her with another man who she claimed was her Pastor. She claimed that the said Pastor wanted to take her to a river for a special bath to avert spiritual attack."
The man further alleged that his wife was fetish and was always in possession of different charms.
He said: "I see different strange objects in my bathing water, food and everywhere in the house. There was a day I entered her room in her absence and saw feathers tied with clothes and other diabolical objects. I believe that my persistent illness, which has deferred medical solution, is as a result of her fetish acts. I have been forced to leave my own house because I don't want to die now."
Oyedele presented the pictures of the charms as exhibits, and begged the court to dissolve the marriage as he was no longer in love.
In defense, Romoke, on the other hand debunked the allegations and stated that she and her husband had lived in peace until January 2016, when he married a new wife.
Romoke: "My husband and I never fought; but immediately he married another woman, his attitude changed. His new wife accused me of sending hired killers to her and my husband turned me into a punching bag. The man my husband first saw in our bedroom was my classmate in primary school. The other man was my Pastor, who came for spiritual purpose."
The respondent said that she was not ready to divorce her husband because she was still in love