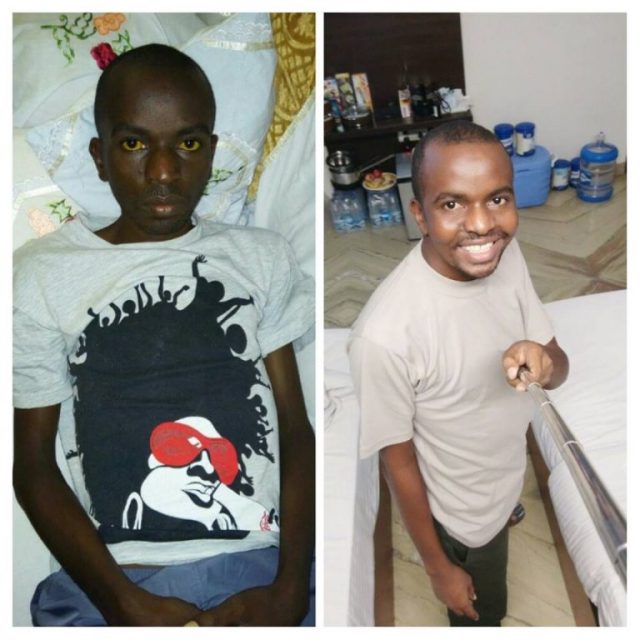 Remember Anthony Maina Ng'ang'a? Well, he is the Kenyan man who left many shedding tears after he narrated how God saved him from death.
In 2015, Maina developed a liver disease that changed the colour his eyes to yellow (Jaundice) and was forced to undergo treatment in India. With the help of well-wishers, Maina managed to raise money and traveled
"ON THE LEFT THAT'S ME IN DECEMBER 2015 ON THE RIGHT IT'S ME ON MY BIRTHDAY 31ST AUGUST 2016. AND ON THAT NOTE MAY GOD GIVE YOU ALL A GOODNIGHT, COUNTING THE DAYS LEFT FOR ME TO RETURN TO KENYA," Maina shared after a successful transplant while still in India.
Well, Anthony Maina is back home. His health has improved compared to last year when he was ailing. He is a happy man finally.
On 13th June this year, Maina took to Facebook to thank God for giving him another chance to live and also his mother who donated her liver to him. Here is what he posted.
"Today marks one year since my liver transplant.
Last year a day like today I underwent a surgery that took more than 15 hours. I know it was by the hand of God that I survived it. I still remember what the doctor told me when I was able to walk. 'You gave me a scare young man you should be really grateful to God.'
Happy rebirth to me and I'd like to thank my mother for giving me her liver."