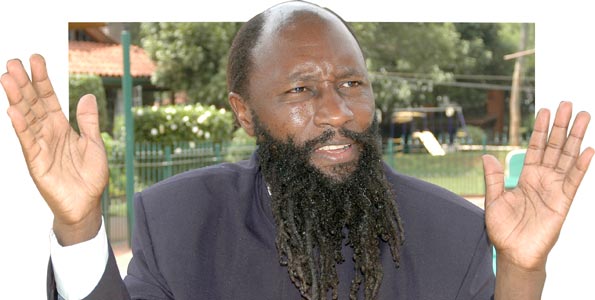 Prophet Dr Edward David Owuor is one of the most popular preachers of the modern era in Kenya.
Owuor is an evangelist whose meteoric rise cannot be missed having emerged at the opportune time the digital space was on the rise, FM stations were expanding the airwaves and Televangelism was at its peak.
Apart from forming a church, tailoring his repentance message and rewriting fashion for his members that only rivals that of the Akorinos, Owuor's bodyguards come second to none.
Nairobi residents got a first-hand look when he held a crusade at Uhuru Park over the weekend. He was surrounded by armed policemen spotting bullet proof vests and Ak47s.
That's not all, another group in suits also man Owuor, strutting along his top-of-the-range cars whenever his entourage is on the move.
Accessing him on the dais is a mountain on itself. The men in suits form a tight ring around the dais keeping a close eye on the thousands who make it to his crusades.
So who is Owuor?
He was born in 1966 in Yimbo, Siaya County.
Owuor earned his first degree from Makerere University, his second at University of Nairobi, and his Master's degree in Genetics at Ben Gurion, Israel.
He then proceeded for his PhD in Molecular Genetics at University of Haifa and was immediately offered appointment by two leading institutions in Medicine in the US.
Here are some of the photos of his bodyguards…