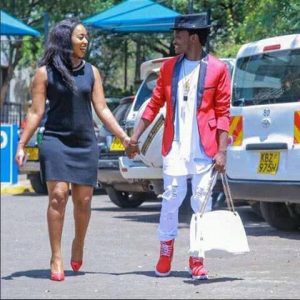 Kenyan gospel singer Bahati has over the years become one of the most celebrated artistes in the local music industry, known for his tear-jerking and inspirational songs.
Bahati, real name, Kevin Kioko has however in the last couple of months been involved in a few scandals and controversies several times, including his online and public beef with fellow singer Willy Paul.
The two are however in good terms now after they missed out on the Groove awards nominations for 2016, that jolted them into the reality that their public stunts and online brawls were only affecting their music negatively.
Bahati has however decided to stay away from controversy and at the end of last year, he decided to go back to his roots and genuine Christian songs by dropping a new song with celebrated, veteran singer Jemimah Thiong'o dubbed Kwa Moyo Wangu.
Away from music, Bahati has also been in the limelight of late for his relationship after he revealed his girlfriend, Diana Marua, who he calls his 'prayer partner' a term that has made him trend for good and bad reasons.
His new boo, Diana Marua was the main video vixen in his wedding song, Mapenzi and soon afterward, it was revealed that the two were actually dating and are the newest and cutest couple in town.
We recently had the chance to sit down with Bahati to open up about his personal life, including his love-hate relationship with Willy Paul.
Bahati has been hesitant to say that Diana Marua is his girlfriend and during the interview, we felt the need to ask him if he finds it hard to reveal he has a girlfriend considering he's a gospel artistes. We also sought to know when he plans to settle down.
We also asked him what prompted him to adopt his three children, lessons learned from his poverty-stricken days to now when he has money and fame.
Watch the short video below as Bahati reveals all the juicy details about settling down, Willy Paul, his adopted children and what he thinks about older women who date younger men, aka Ben 10's.