In photos circulating on social media, he was seen spraying the insecticide directly into the eyes and various body parts of his congregants.
At the time, he told the BBC's Nomsa Maseko in Johannesburg he had sprayed the face of one woman because she had an eye infection and claimed the woman was "just fine because she believed in the power of God".
Rabalago's case had been delayed on a number of occasions, most recently when his lawyer forgot his glasses.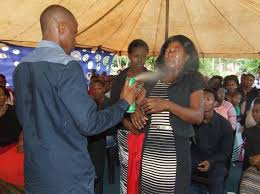 South Africa has seen a wave of incidents where church members have been subjected to unorthodox rituals which purportedly healed them of various ailments.