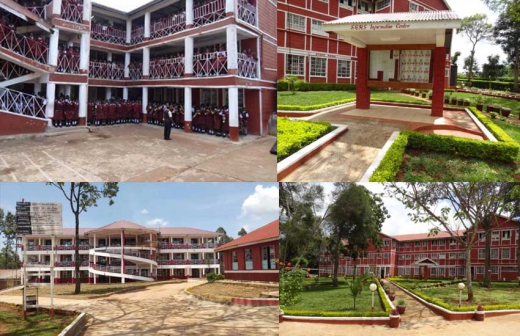 Sironga Girls High School in Nyamira County was started as a harambee mixed school with 62 students, on July 1, 1968, with then vice president Daniel arap Moi in attendance.
It was later changed into a girls' boarding school and then a provincial school in 1990. Today, the national school is one of the academic giants in Nyanza region.
Sironga, nicknamed 'Maroon Palace,' has its buildings painted red, while the students' uniform is all maroon.
The school is scenic, with well-trimmed lawns and hedges. It is grounded on the faith of the Adventists, meaning there are no morning preps on Saturdays.
Here, students spent their Fridays gossiping until the wee hours with others spending their Saturdays in bed inside Chad, Benguela, Kyoga, Turkana and Nakuru dormitories.
But woe unto those who napped in church where school prefects noted them down for punishment, including scrubbing pavements and the kitchen from where their favourite meal of rice and meat was served.
To some, this punishment was a blessing in disguise as they skipped classes and basked in the sun.
Nyambaria Boys High School considered themselves the brother school to the girls for whom, Okambeba, the maths teacher showed no mercy with his lethal whips telling them, "Fungu-fungu-funguaaa!"
Eleven years ago on a closing day, the 'maroon girls' defied the school creed and faced off with the management when they attempted to stop them from going home.
Not even the promise of pocket money could silence them. They rioted and dared the principal to call the cops.
Notable alumni nurtured by the motto 'Vision of Excellence' include Mary Matini, former student and principal now contesting for Nyamira Woman Rep seat, High Court judges Hellen Okwany and Adeline Rogito.
Others who wore maroon skirts, cardigans and white blouses are Linet Onkoba, the project manager at Barclays Bank, Josephine Isaboke, executive secretary at Kenya Agriculture and Livestock Research Organisation (KALRO), Hellen Mecha, relationship officer at Equity Bank, and Grace Nyakara executive assistant at the Ministry of Lands, Housing and Urban Development.
Also in the roll call are Egesa FM's reporter Hyline Ocharo, Judy Kemunto of African Population and Health Research Centre, Larvinia Onduko, risk consulting advisory associate at KPMG and Orpha Okiambe, a clerk at the National Irrigation Board, Bura Scheme.