The conspiracy-theorists say there's something more sinister to it. This is evidence, they say, of a vast, nefarious secret society
—the Illuminati—and its plan to institute a World Order.
Our very own artistes have been caught in the middle of everything. Some by just throwing around clueless symbols around and others performing jaw-dropping feats that have elicited diverse reactions from different people across the country.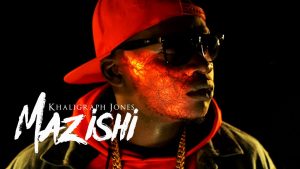 Octopizzo started the illuminati craze some time back when he released his Ivo Ivo Ivo hit where he used the pyramid sign and people came out tongues wagging that he had joined the "satanic sect", claims he later refuted.
When Kenyan hip-hop heavyweight Khaligraph Jones performed his song Mazishi last year at the Jameson Connect event he left many a mouth agape.
He shocked his fans as a coffin, escorted by 'pallbearers' in dark outfits, made its way to the stage after which he emerged out of the coffin and delivered a killer show.
Well, Khali is at it again this time round with his new video featuring Petra. This new hit, Rider, goes morbid and has elicited reactions from all over the internet with some describing it as 'dark'.
The creepiest thing about the song, isn't necessarily the lyrics themselves, it's about the video, which starts with him slashing a man's head and goes on to feed on his 'victim's' organs.
Having gory graphic imagery in one's video doesn't necessarily qualify one to be illuminati.
The song produced by Motif and video directed by Kevin Bosco Jnr has the two celebrated hard spitting rappers drop bars one after the other. This is just a show of how creative an artiste can be.
The illuminati phenomenon has often been taken out of context in the local industry through imagery and other misunderstood signs have always made local artistes seem controversial like never before.