Bahati started dating Diana and at some point, he went ahead to post photos of both of them referring to her as his prayer partner – something that picked up as a trend in the music industry.
Before the two met, Bahati had been dating Yvette Obura and with Diana's arrival, the affair hit the rocks. Bahati and Diana started living under one roof and by the time we were breaking news that Diana was expecting Bahati's baby, the two were officially man and wife.
Critics have questioned the union, with some claiming that Diana is too old for Bahati.
Bahati says Diana has since converted to Christianity and he does not see what the whole fuss is all about.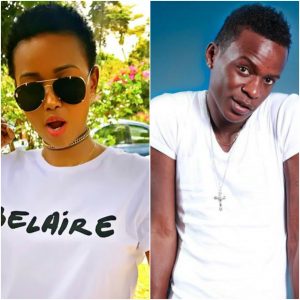 Willy Paul and his love for Huddah
The search for a wife is a big deal for Willy Paul as he said as much in his song Tam Tam but despite getting advice from Size 8, it seems that there hasn't been any breakthrough for 'Poze'.
Instead, controversy seems to have found a nesting place in Willy Paul's life.
Apart from his obvious talent, the other thing that keeps him on people lips is controversy with ladies.
The singer late last year dropped Tempted, in which he talked about being tempted by women and confessed that as it stands now Vera and Huddah got nothing on him. In his recent single Malingo, he airs the frustrations of trying to woo a girl who doesn't want anything to do with him.
"After a performance, Willy met a lady whom he liked and drove off with her," a former Willy Paul insider told us.