Although their relationship may be over, which is in itself controversial, the gospel video director had fathered Chantelle's child and rumour had it that they were married, something the two have come out strongly to deny.
J. Blessing confessed that when they met, Chantelle was still in her lifestyle of partying and because of the affection towards her, he'd get whatever she wanted, from alcohol to cigarettes.
This went on for some time until she got tired, turned a new leaf and followed Christ.
However, their union hit the rocks with some of their friends claiming that J.Blessing was not happy with Chantelle's character. With the relationship over, she went back to the bottle.
Bruz Newton and his Girlfriend
The singer and his girlfriend are said to be living together and she is known not to stand all that church stuff.
She is also rumoured to be a lover of the tipple.
Coming from the ghetto the dancer-turned-singer has had his name become the talk of town for his dance moves and singing skills and now he joins the list of celebs who don't mind dating a non-believer.
Ringtone and his 'thirst' for Zari
The controversial singer looks ready for anything that will see blogs blow up with stories about him. In a long lustful Instagram post the singer calls out for anyone with Zari Hassan's phone number to give it to him.
He says that Zari needs a man who will lead her to Church and Christ and he is that man because Diamond can't offer such. He went ahead to say that he doesn't care about the number of children she has because Kisii people don't care about that.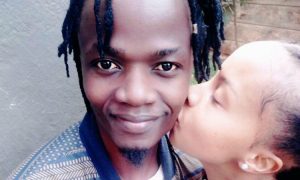 Juliani And Brenda Wairimu