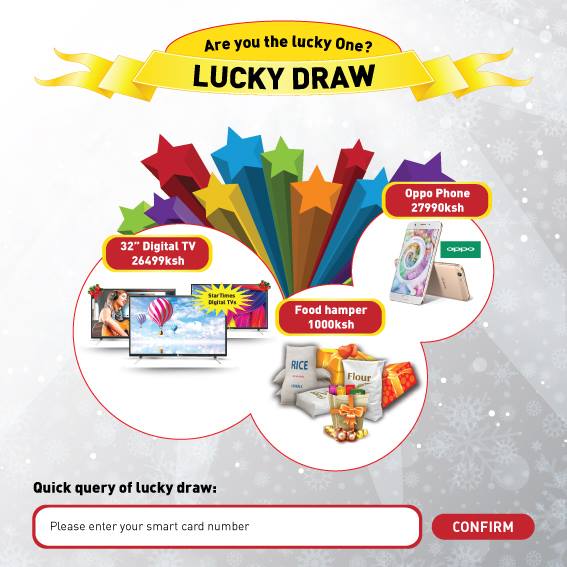 StarTimes Kenya is offering pay TV subscribers an opportunity to access top of the range content for free! This is courtesy of the StarTimes mobile app!
Interestingly, users can download the StarTimes app to check if they are winners in the on-going StarTimes Christmas promotion. There are over 50 32inch tvs to be won, 30 OPPO Smart phones, food hampers among other amazing prizes to be won in the promotion.
To participate, all you need to do is top up your StarTimes decoder for Ksh.500 and above and you get an entry point into the draw.
But that is not where the fun ends! The StarTimes app, which is available for free download on Google's Play Store comes with the full package of all StarTimes bouquets.
According to a statement from StarTimes, the mobile app has been designed to revolutionize how digital TV content is relayed.
"The app allows users to take premium entertainment wherever they go," said StarTimes. On the app, subscribers can catch all the latest series, movies, documentaries and kids programs. Interestingly, football matches from super leagues such as the German Bundesliga, the French Ligue 1, and the Italian Serie A are also available. "The mobile app lets subscribers watch any programs or matches they may have missed through set replays. It also allows them to download and record programs," added StarTimes.
The app also has group chat feature, which allows subscribers to chat with people from all over the world who enjoy the same programs as they do. "We have a Bundesliga chat room, for example, where lovers of the Bundesliga league can chat about the upcoming matches, predict the scores, discuss the highlights or critique formations," says StarTimes.
Apart from offering access to the world's best entertainment sets, the mobile app also gives users the ability to carry out self-service exercises for their StarTimes products. For instance, subscribers can use the app to top up their monthly bouquet, check their balances, clear code errors among other services.
To download the app today, open Google Play Store and key in StarTimes or visit the link http://www.startimestv.com/ and start enjoying the digital life wherever, whenever.