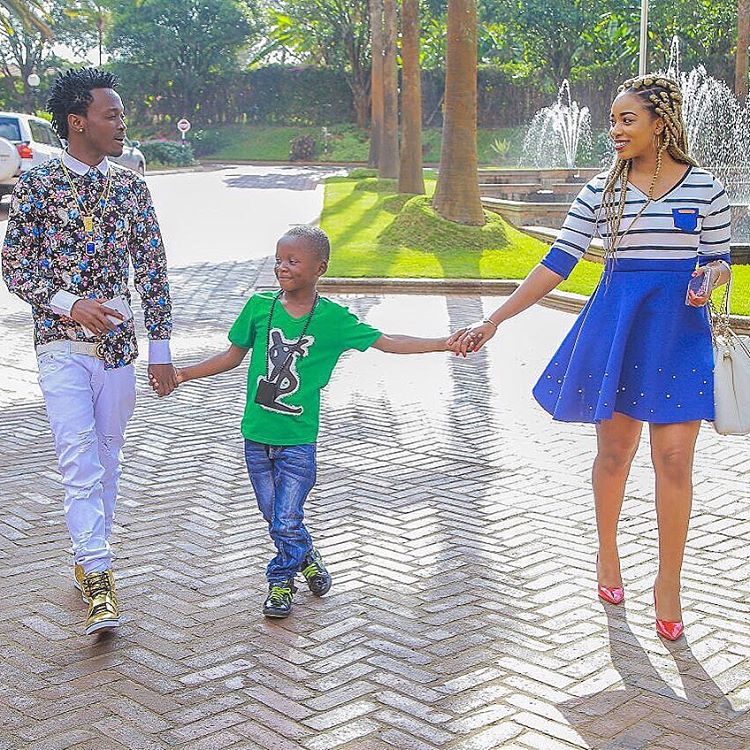 Gospel musicians are opening up about their dating lives but are corrupting some christian phrases to suit their agendas. Bahati and his 'prayer partner' shenanigans continues to rub Kenyans in the wrong way after another photo of him and Diana Marua emerged.
And the prayer partner conversation continues…
It has taken an entirely new meaning, a nasty one at that, thanks to our very own gospel wonder kids Bahati and Wily Paul.
Frankly, I think they should be expelled from the industry for all their veiled shenanigans, or they style up and get back to God.
My sentiments seem to be echoed after Bahati posted a picture of him and his prayer partner bae out to lunch with one of his adopted kids.
You can imagine how riled up Kenyans got that he just won't quit it with the Diana Marua appearances all over the place.
Check out how Kenyans reacted:
"It was a great day to you but to your fans its sucked all through…how can you raise a talent and then try to bring that talent down….keep advertising this woman but remember the devil mostly use women to bring men down…the bible got the evidence….wish you all the best in your ministry's with EMB records crushing new talents," posted Alidia Twins.
"I just admire Dj Mo and size 8reborn.. They never went round the bush.. He went straight to the point… Here we started with prayer partner …hahaa what next are we waiting?Baha..u are boring nowadays… Let your personal lyf be personal… Why should u post to the media… Nkt….boredom begins one story every day," wrote Mercy Robinz.
"lemme tell you bahati the thunder that will strike you is dancing Lingala in Congo ..Mbona ukafanyia Weezdom hivo? Huyo Prayer partner wako mtaachana tu," wrote Sharon Caxx.
"Sasa kusema ukweli #Inlove #maria #mapenzi…. then compared na meseg ya #Faham by weezdom gani ndo yafaa itolewe Youtube?? wewe Bahati lt me hope umeanza kutumia bangi… nowdays vitu unafanya ni za ujinga,, unabehave kma Moses kuria wa Gatundu,, but msee remember this God can uplift you & also do viseversa,, infct umenisinya na ugu gumama gwako,, naomba mungu mzae nae mtoto… itakua ushuhuda huku… mtazaa nae Homopithecus,, nkt,, Tubu wewe!!" wrote Iraitoh Joesse.
"The thunder which gonna strike u Bahati its still dancing in Machakos Junction finding its way to u Repent u r such a pretender and wat u did to Weezdom aint good…..humble yourself before life humbles u," wrote Lillian Pretty Pendo.
"Sasa hii ni tabia gani mnafunza Morgan?Yaani you have forgoten abt your talent ukapotelea kwa huyu mwanamke?mnaishi pamoja ama?thats none of my business anywei.the devil is using you Bahati," wrote Megbenta Kash.
"You are just becoming stupid each day with these prayer partners of yours. Why don't you marry then and raise a family. Nkt," wrote Gabriel Kip.
"Kenyan gospel musicians having more drama than the other ones. This children need to grow up. Siku izi gospel musician ni jina tu. You don't even need to be a role model and that sucks," wrote Irene Wangui.
Over the weekend, the two were hosted on a show on NTV by Rashid Andalla. He asked them if they are an official couple but the two could not commit to each other.
Word has it that Marua is a married woman with two children, but nothing is written in stone.