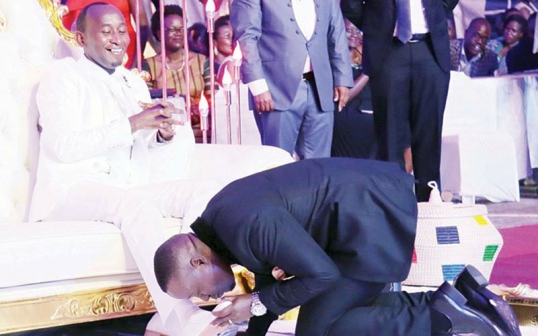 It seems Kampala's young to middle-aged Christians have got tired of waiting for the return of Jesus Christ and decided to crown their own prophet.
He is a 40-year-old man called Elvis Mbonye. But unlike other prophets who are not honoured by their own nations, Mbonye is treated like a god in Kampala.
'Prophet' Mbonye is treated better than a god by his followers. Last weekend, thousands turned up for a function to honour him where VIP ticket was costing as much as one million Uganda shillings (Sh30,000) while those for commoners were going for a third of that (Sh10,000). The evening event that lasted five hours was mostly devoted to followers 'honouring' their prophet.
For four hours, the faithful, resplendent in the latest trendy suits and dresses, filed to where the prophet was sitting on a white seat (himself also dressed in white), lay and kissed his feet. They also gave him wrapped offerings and envelopes of cash.
At the end of the function, he addressed them and told them to be happy if criticised by the world because it means they are approved by God.
By the time the photos of people kissing Mbonye's feet started circulating on social media following the meeting and the public started pouring out their criticism, his faithful were not bothered, in fact they were happy because it meant God was approving of their actions.
After a day or two, the public seems to have got tired of criticising people who were getting happier with the criticism. So, they joined in the merriment. They started enacting the so-called 'Mbonye Challenge' that is posing for photos in similar position.
People in different attire would sit and others lie on the ground face down, kiss their feet and post the photos. The winner for me was by someone who got several dolls, sat one in front of the others whose heads were on its feet.
Back to our man. His fellowship, he insists it is not a church, has been growing steadily in the past four years.
He started by hiring hotel conference rooms for evening fellowships every Tuesday but numbers of the congregation kept growing so he kept moving to larger places.
Finally, no building in Kampala could hold his fellowships and they are now held in open stadia where he says he pays about Sh60 million (KSh2m) per evening on venue hiring and logistics.
Mbonye has a CV of 'prophecies' he has made though they are difficult to verify. He says for example that he prophesied the Asian Tsunami in 2004 accurately.
Problem is that he only told the prophecy to two close friends of his whom he hasn't yet produced. He says he has been invited to many countries to go and tell them the future but has not yet gotten clearance from God to accept the invitation.
And oh, he sometimes chats with God via phone. And I almost forgot to tell you that he sometimes meets Jesus and they chat for hours. He says Jesus is very handsome and cool.