Drama in the church guys!
A pastor in Mwingi town came head-on with blows in front of the congregation after the man accused the cleric of sleeping with his wife. On Sunday, Faith Christian Church member John Kites denounced his pastor for having an affair with his wife. They threw punches and insulted each other then police arrested both men.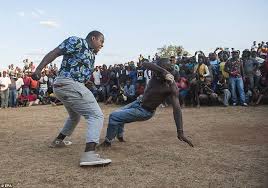 ON THURSDAY, APRIL 12, I LIED TO MY WIFE SAYING I HAD TRAVELED TO NAIROBI, SO I COULD MONITOR HER MOVES. I'VE BEEN SUSPECTING THE DUO OF HAVING A LOVE AFFAIR. I THEN SAT IN A HOTEL WHERE I FOLLOWED HER SECRETLY SHE WITHDREW SH500 FROM AN M-PESA SHOP AND I DEMANDED THE M-PESA GUY TO SHOW ME THE MOBILE NUMBER THAT HAD SENT HER THE MONEY. I FOUND OUT IT WAS FOR THE PASTOR
John Kite said that his wife left for Nairobi to meet the pastor and his efforts to stop her failed. She said no one could stop her from the desires of her heart which was clearly the pastor. He said his wife returned on Saturday accompanied by the pastor.
Some members said they will avoid the church if the allegations are proved to be true. They said a cleric must be the face of morality and lead by example so the faithful can follow suit.