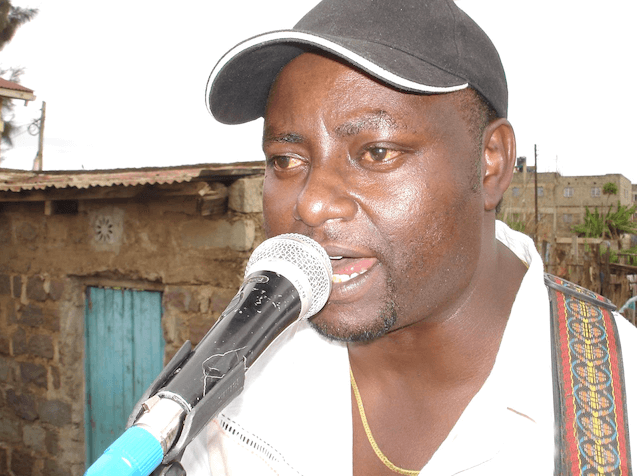 Popular Kikuyu musician Kamande Wa Kioi is in Nairobi West hospital where he is receiving treatment after spending days in a coma.
It is not clear what ails him but a fellow artiste Jeff Kuria posted a video of his interaction with the star while he was in his hospital bed, in Nairobi.
The star popular for his singles Karanga Chapo, Kapusi Gakwa and Teacher, Teacher complained of dizziness and fatigue before he was rushed to Kenol Hospital in Murang'a.
He was admitted there for six days before he was transferred to Nairobi West.
"I prayed to God to take this health issue away from me. He resurrected me, I must be the fourth person in the history of the world and in kenya i'm the first, " Kamande said from his hospital bed.
"I have composed a song saying, indeed there is a God. if anyone was to come to me and say there is no God, I would just tell them to o home. If my leg can get better and it was swollen badly, there is nothing he cannot do," Kamande explained.
The guitar wiz reassured his fans that he is now stable and his vitals are okay.
"No prayers made on my behalf were wasted or lost, they all went straight [to God and were answered]." Kamande said.
"I had pipes inserted down my throat, I could feel them in my stomach. They were placed there to enable me to breath. I would have died at Kenol Hospital. I'm lucky to be alive," he added.
Kamande says he will be discharged soon but he will have to return for another surgery after a while.
Check out the full video below.
Here are some of the reactions from his fans
Ed NG: Get well soon. When you are discharged, please seek a nutrionist for weightloss. All this has to do with a weak heart unable to pump blood due to the excess weight.
Rachel Njeri: Get well soon my brother I prayed for you remember you played guitar in some of my songs .you will live to tell the goodness of God
Julia Waithira: Get well soon.God has given you a second chance to serve Him.receive Jesus Christ He loves you and He will surely give you a new song.my prayer for you is that you may receive salvation.
Gerald Wanjiru: We need to style up, why show him to the public, that's being naive. Kamande deserve respect.That's so sad. Why publicise him, when he's sick? We know he's sick, so why publicise him at his weakest moments. Be mature.
Hyuzuf Yuzuf: God bless and quick recovery. Sir Kamande remember your words "that you will sing? for the Lord". Sing for the Lord that is my prayer??. Let God us your talent.