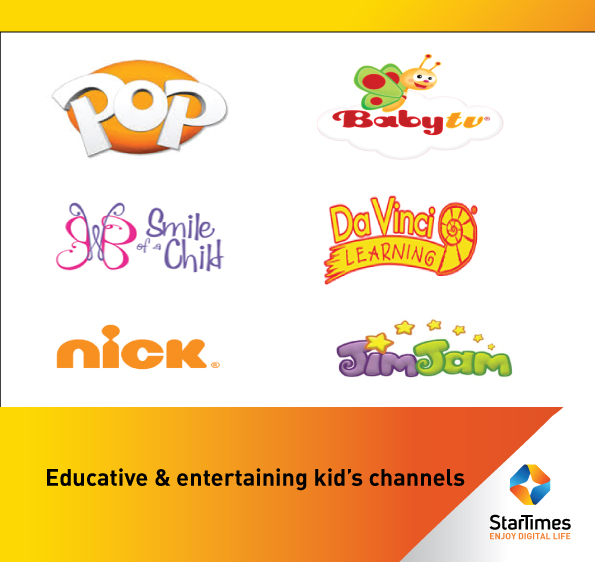 The long December holidays are here with us. And with schools closing for a two-month period, many parents have been left wondering what options are on offer to keep their kids engaged and entertained as we head towards Christmas.
Well, StarTimes Kenya has arranged an assortment of educative and entertaining programs tailored exclusively for children.
The pay television has reserved the following channels and programs as follows:
1). POP on Channel 455 on DTT and Channel 302 on DTH
2). Baby TV on Channel 358 on DTT and Channel 305 on DTH
3). Smile Of A Child on Channel 356 on DTT and Channel 306 on DTH
4). Da Vinci Learning on Channel 363 on DTT and Channel 308 on DTH
5). Nickelodeon on Channel 357 on DTT and Channel 304 on DTH
6). JimJam on Channel 360 on DTT and Channel 303 on DTH
Some of the programs scheduled to air on baby TV include Hippa Hippa Hey. The programs airs daily on the channel. The programs involves Sophie the windup doll, Hippa the Hippo and Bow Wow the Dog on their exciting journey that involves solving puzzles and playing matching and sorting games! Other programs on this channel are Grandpa Joe's Magical Playground.
On Jim Jam, kids will get entertaining shows such as Pound Puppies, Houdini, LMN's, Pound Puppies Marathon.
Under the educative Da Vinci channel, educative kids-oriented programs such as Mystery of Matter –Out of Thin Air, Kids in the Garden –Soil, Let's Get Inventin' –Rocket Skates, The Face–Facial Recognition, Sports Lab –Soccer, IN FOCUS: Albert Einstein have been set.
Interestingly, all these programs are available on all StarTimes packages whose retail price per month starts at Sh. 359. Alternatively, you may download the StarTimes mobile app dubbed StarTimes App to stream these and all of StarTimes Channels live.